VALENTINA CORVI GIVES THE TRINX FACTORY TEAM THE EUROPEAN TITLE AMONG THE JUNIORS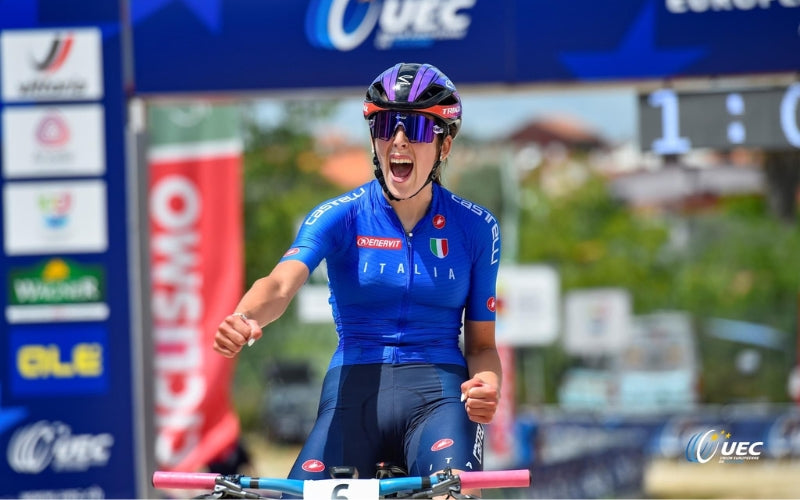 He had already shown excellent form on Friday, helping to win the bronze medal in the team relay with his Italian national team mates. And on Saturday Valentina Corvi confirmed her affinity with the Anadia track by winning the individual Cross Country race, thus graduating junior European mountain bike champion.
For the cyclist from Tirano, used to wearing the tricolor jerseys both in cross country, short track and cyclocross, this is the first European title of her career.
"But this title has a special flavour", confirms Valentina "I knew I was in good shape and could fight for a medal, but in a fast race like the Portuguese one, nothing was taken for granted". A track on which Valentina Corvi had already closed in fourth place last year. "Fast, with lots of steep climbs but without a long climb to make a selection on. A similar effort to cyclo-cross racing, with a selection from behind and a leading group, initially with ten riders, which gradually narrowed. In the end there were three of us: me, the Austrian Katrin Embacher and the German Carla Hahn, with whom I fought for the victory".
A victory at the European championship that seemed unthinkable, after the physical problems the Capoliveri Legend had three months ago.
"We were wise to recover, without pressure and then focusing on the crucial part of the season. Even though I haven't raced a lot, I had great sensations during my training sessions; so I arrived in Portugal with great confidence. Now I'll focus on the championships Italians on July 22 and then we will work with the national team for the World Championships".
In addition to Valentina Corvi's gold medal, the Trinx Factory Team placed two athletes in the top five at the Alpago Bike Funtastic, the last stage of the Internazionali d'Italia Series circuit: already protagonists yesterday at the Italian Short Track Championship , even in today's race Gioele Bertolini and Eva Lechner finished respectively in fourth and fifth place.